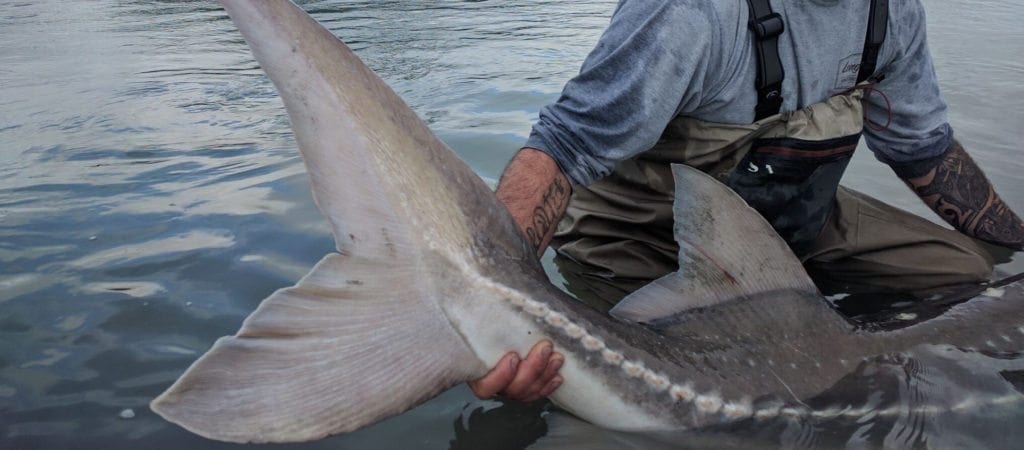 IT WAS JUST TOO BIG TO GET IN THE PICTURE...
JOHNNY'S SPORT FISHING
Big Game Sturgeon Adventures!
A survivor from the age of the dinosaurs, white sturgeon can attain lengths in excess of six meters, and can live for over 150 years.
The white sturgeon is North America's largest freshwater game fish. White sturgeon are among the largest and longest-lived of the many species and of freshwater fish in North America, sometimes attaining weights of up to 1000lbs. The Fraser River is home to the healthiest population of these magnificent fish in the world. Fishing for sturgeon is a game of patience, when hooked the power and brute force these fish exert is truly unbelievable, often jumping clear of the water. Sturgeon have been known to bring grown men to their knees (I have seen it happen). Sturgeon fishing is available year round, with October – December being prime time.
White Sturgeon is at the top of the Fraser River food chain, and one of the few year-round resident species of fish in the lower Fraser River. Sturgeon fishing has increased in popularity over the recent years as many anglers have heard about the enormous sizes and want to catch their own monster. Some specimens during the season will reach 10 to 13 ft. in length and will weigh in at 500 to 1200 lbs. These are truly spectacular specimens, the apex of their kind. Most of the Sturgeon that are caught by sports anglers will range in size from about 3ft. to 7ft. and weigh between 20 and 250lbs. The Fraser is a large river almost 1000 miles long and Sturgeon can be found through out most of it. Sturgeon do move around quite a bit and there literally dozens of spots to try your luck for Sturgeon in the Fraser River. Having a knowledgeable fishing guide will be the ensure fishing success! We have 19 years fishing for Sturgeon in BC so you can rest assured we know all the best hiding spots.
The White Sturgeon , also known as Acipenser Transmontanus ,( which translates directly to "Sturgeon beyond mountains") is north americas largest freshwater gamefish. Sturgeon , typically each sizes from five to 10 feet long , with a few up tp 12 feet long. The largest ever recorded was 20' with a weight of 1,799 lb.
The Fraser River has one of the healthiest populations of White Sturgeon . It is known the world over , that if you want to catch trophy White Sturgeon , you come to the Fraser River. The Sturgeon in the Fraser River can also travel to the ocean , in fact there is proof that the Fraser River Sturgeon travel back and forth from the Fraser to the Columbia river. The White Sturgeon can also live in saltwater , traveling anywhere from California to Alaska.
The Fraser River is rich in feed for the White Sturgeon, which contributes too its healthy population. Each spring Sturgeon start to congregate awaiting the eulachon run , which is the first feast of the season. The eulachon is a type of smelt that enters the Fraser River to spawn. They are so prolific that Sturgeon even follow them into the river from the ocean. One common misconception is that the Sturgeon is a scavenger, only feeding on dead and decaying matter. Although the sturgeon does scavenge at times, it is also a highly efficient predator. They will actually hunt, locating and catching live salmon in the murky waters. With Eulachon and Salmon being the main source of food for the sturgeon, they will also feed on Crayfish, freshwater clams , and basically anything that lives or comes into the river.
We employ the latest technology in fish finders, so we can actually see the sturgeon on the bottom. I would say Sturgeon fishing is more akin to hunting then fishing. They move around quite a bit, so finding the fish is half the challenge. Once located , the hooks are baited and cast into the river, and the game begins. There are no norms when it comes to sturgeon fishing, on one day and off the next. Every day is a new day, with different results. The Sturgeon can be extremely picky eaters, which is where your guide comes in. Knowing which baits to use at certain times means the difference between sore arms and no fish. With 21 years experience as a professional sturgeon in guide, i am dialled in on what baits to use and when.
Sturgeon are extremely sensitive, when taking the bait , if they feel something even slightly not right, they will spit the bait in a half a second. Once hooked however, the Sturgeon provide a fight like no other fish. As the season progresses, and the water warms a bit from its frigid winter temperature, the Sturgeon starts to fight harder. Clearing the water soon after being hooked is common place. Line in the 100 lb to 150 lb class is typical, with a drag set to match these lines, one could almost stop a small car from driving away. But you can't stop a sturgeon. Fighting a Sturgeon is a like a painful amusement ride, you just hang on and hope for the best. The fight can last anywhere from 15 minutes or so , up to a couple hours. That's a couple hours of pulling on a rod with all your strength, which can be taxing to even the fittest of angler.
Legend
Out of season
Available
Prime season
Jan
Feb
Mar
Apr
May
Jun
Jul
Aug
Sep
Oct
Nov
Dec
WORDS FROM OUR GUESTS
Get some other people's opinions!
Had a wonderful time fishing with Johnny, we caught some amazing fish in the two days we had him. I would totally recommend hiring him as a guide. Very nice guy, great with kids as well and totally knew what he was doing. Can't wait to come back and go fishing with him again!
From the first info I requested until the end of the fishing trip, it was all great!! Johnny is very easy to work with and a nice guy. Fair prices, high quality! Highly recommended.
Thanks again Johnny!
I went fishing with johnny and i had great time.
He is very professional and friendly. I would definitely recommend him. I hope to come back someday and go fishing again.
Keep up the good work Johnny!