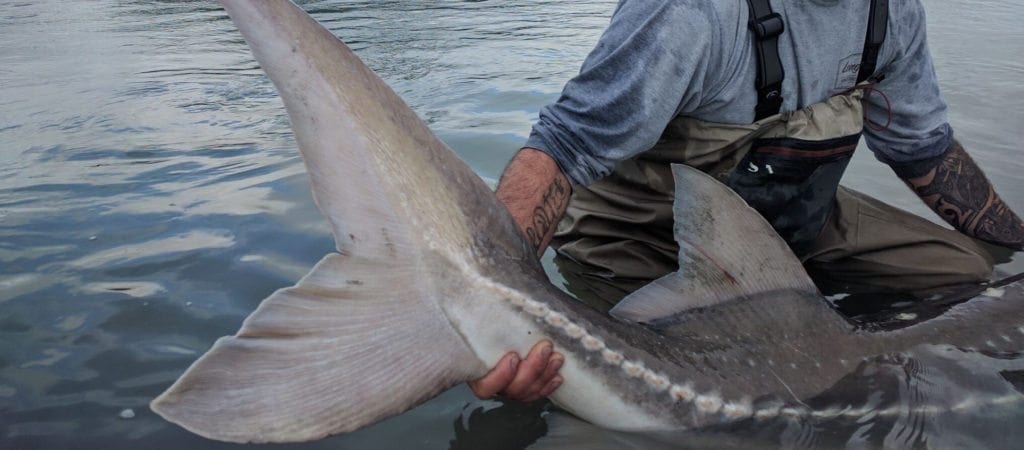 IT WAS JUST TOO BIG TO GET IN THE PICTURE...
JOHNNY'S SPORT FISHING
Big Game Sturgeon Adventures!
A survivor from the age of the dinosaurs, white sturgeon can attain lengths in excess of six meters, and can live for over 150 years.
The white sturgeon is North America's largest freshwater game fish. White sturgeon are among the largest and longest-lived of the many species and of freshwater fish in North America, sometimes attaining weights of up to 1000lbs. The Fraser River is home to the healthiest population of these magnificent fish in the world. Fishing for sturgeon is a game of patience, when hooked the power and brute force these fish exert is truly unbelievable, often jumping clear of the water. Sturgeon have been known to bring grown men to their knees (I have seen it happen). Sturgeon fishing is available year round, with October – December being prime time.
White Sturgeon is at the top of the Fraser River food chain, and one of the few year-round resident species of fish in the lower Fraser River. Sturgeon fishing has increased in popularity over the recent years as many anglers have heard about the enormous sizes and want to catch their own monster. Some specimens during the season will reach 10 to 13 ft. in length and will weigh in at 500 to 1200 lbs. These are truly spectacular specimens, the apex of their kind. Most of the Sturgeon that are caught by sports anglers will range in size from about 3ft. to 7ft. and weigh between 20 and 250lbs. The Fraser is a large river almost 1000 miles long and Sturgeon can be found through out most of it. Sturgeon do move around quite a bit and there literally dozens of spots to try your luck for Sturgeon in the Fraser River. Having a knowledgeable fishing guide will be the ensure fishing success! We have 19 years fishing for Sturgeon in BC so you can rest assured we know all the best hiding spots.
Come see how spectacular Fraser River sturgeon fishing is.
Contact us or call us at

604-719-1382

to book your fishing trip.
WORDS FROM OUR GUESTS
Get some other people's opinions!
Expertise and Determination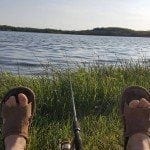 Me and some friends had a weekend fishing getaway from Alberta. Well worth the trip as John had us on some real good monster Sturgeon. His is a very easy going guy and has a great boat so no worries about breaking down. Also knows the fish in the area and where they hide. First time but not our last it's going to be a yearly trip only with Johnny's Sport Fishing. Thanks John from the Alberta Boys.
Fantastic Fishing!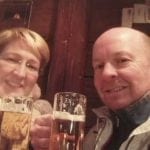 We had a great days fishing with Johnny. His expertise and determination resulted in a fantastic fish at the end of the day to add to the others caught in the morning. John is a great guy who puts you at ease and is also tremendously knowledgeable about both the fish and the local area. If you want some fantastic fishing in the company of a good guy then look no further.
Fraser River Sturgeon Fishing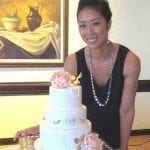 As a beginner I needed a lot of guidance. Johnny was so super patient and gave me superb guidance while still allowing me to learn. Also, he knew all the best spots because he grew up around the Fraser River area. Plus the day was so fun! Would definitely recommend Johnny as your fishing guide!
Sturgeon Fishing Trip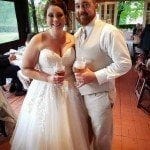 We had a really great time with Johnny on our sturgeon trip. He is a great guide and you can see that he really loves to fish. He had great knowledge of the river and area. We ended up catching 4 fish. Two of them were over 8 feet! We can't thank Johnny enough for these amazing memories!