Had a wonderful time fishing with Johnny, we caught some amazing fish in the two days we had him. I would totally recommend hiring him as a guide. Very nice guy, great with kids as well and totally knew what he was doing. Can't wait to come back and go fishing with him again!
From the first info I requested until the end of the fishing trip, it was all great!! Johnny is very easy to work with and a nice guy. Fair prices, high quality! Highly recommended.
Thanks again Johnny!
I went fishing with johnny and i had great time.
He is very professional and friendly. I would definitely recommend him. I hope to come back someday and go fishing again.
Keep up the good work Johnny!
My three brothers and I booked a day with Johnny's Sport Fishing on the 13th of April 2017. This was a gift for my thirtieth birthday, and i can certainly say it did not disappoint. Johnny knew the best spots on the river, the best bait to use, he was very patient and welcoming. When we got out and set the hooks we were on within 15 minutes, and than 15 minutes later, and that continued until we finished. There were other boats in the water and they did not have as much success as we did. Every fish I caught broke a new personal best. We were also able to get involved in baiting the hooks and touching and holding the fish having very close looks at the fish we brought aboard. This trip is good for anyone all shapes and sizes, pro anglers or if you are just starting. I have already recommended to my boss and I would have no hesitation recommending to anyone else. Absolutely Brilliant! Thanks Johnny!
Great day spent on the water with johnny, started off the morning with a quick 15 minute boat ride. Johnny did a fantastic job of explaining what to do when what happened. The rods were in the water for no more then 5 minutes and we had our first sturgeon on. For the first 3 hours we were catching them as fast as we could get them in and out of the boat. Ended up getting 7 in the boat and being by myself my arms were quite sore. Overall beauty day, beauty gear, beauty boat and best of all a beauty of a guy.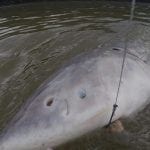 As a beginner I needed a lot of guidance. Johnny was so super patient and gave me superb guidance while still allowing me to learn. Also, he knew all the best spots because he grew up around the Fraser River area. Plus the day was so fun! Would definitely recommend Johnny as your fishing guide!
Me and some friends had a weekend fishing getaway from Alberta. Well worth the trip as John had us on some real good monster Sturgeon. His is a very easy going guy and has a great boat so no worries about breaking down. Also knows the fish in the area and where they hide. First time but not our last it's going to be a yearly trip only with Johnny's Sport Fishing. Thanks John!
We had a great days fishing with Johnny. His expertise and determination resulted in a fantastic fish at the end of the day to add to the others caught in the morning. John is a great guy who puts you at ease and is also tremendously knowledgeable about both the fish and the local area. If you want some fantastic fishing in the company of a good guy then look no further.
We had a really great time with Johnny on our sturgeon trip. He is a great guide and you can see that he really loves to fish. He had great knowledge of the river and the area. We ended up catching 4 fish. Two of them were over 8 feet! We can't thank Johnny enough for these amazing memories!
BOOK ONLINE OR CALL TO EXPERIENCE A TRIP OF A LIFETIME!